easyProperty, the UK hybrid estate agency combining an online presence with the advantage of local experts providing the necessary local touch, is raising capital on Seedrs, the UK's leading crowdfunding platform. Founded in 2012, Seedrs is one of the UK's leading equity crowdfunding platforms, which has funded 1,235 deals raising a total of £1 billion.
The easyProperty business was acquired by Evolve Partnership Limited backed by easyGroup founder Sir Stelios Haji-Ioannou. It relaunched under its new ownership last year and is now seeking capital to expand its network from 54 local easyProperty partners, extending its geographic territory to cover much of the UK. With the iconic trustworthy easy brand, focus on customer service and value for money, easyProperty is set to be a major player in online estate agency.
David Brierley, CEO of easyProperty, said "With the world moving rapidly online, easyProperty recognises the importance of the local expertise for making life's great decisions. Whilst the internet speeds up the property search, saving valuable time and facilitating the widest choice, the final decision has to be made on the ground. Our network of dedicated local experts enables the house buyer, seller or renter to get the best feel for local knowledge not readily obvious online".
Sir Stelios Haji-Ioannou said, "Property sellers tell me they really don't like being told how to pay, having to chase for updates or visiting estate agents' offices. What they do want is an easy way to sell their property. I'm happy to be supporting easyProperty by contributing £300,000 to this capital raise".
Priority access to the Seedrs pre-registration page can be found at https://www.seedrs.com/easyproperty/coming-soon
ENDS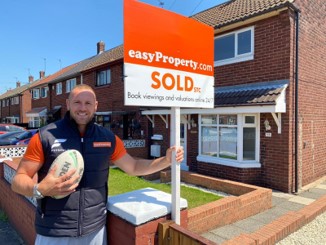 Enquiries:
| | | |
| --- | --- | --- |
| easyProperty | | |
| David Brierey | This email address is being protected from spambots. You need JavaScript enabled to view it. | +44 79 7664 5705 |
| | | |
| easyCapital | | |
| Charles Hancock | This email address is being protected from spambots. You need JavaScript enabled to view it. | +44 79 7969 0666 |
| Stephen McHugh | This email address is being protected from spambots. You need JavaScript enabled to view it. | +44 79 2618 2737 |
| Robin Maxwell | This email address is being protected from spambots. You need JavaScript enabled to view it. | +44 77 7049 6168 |